SMILE AND BE HAPPY
That's what we are here for!
Beyond Thoughts Is A Leading Holistic Healing Organization Based In Mumbai Providing Services Across India & Abroad
Beyond Thoughts have Authentic and Natural Holistic Healing Products
The Capacity to Learn is a Gift, The Ability to Learn is a Skill and The Willingness to Learn is a Choice. Beyond Thoughts Holistic Healing and Occult Science Courses
Beyond Thoughts is committed to bring happiness and smiles in your life through its holistic healing approach. Being one of the largest holistic healing integrators we want to change lives and create positive minds!
The ultimate goal of holistic healing is wholeness. We are either in balance or out of balance, aligned or misaligned, integrated or disintegrated, and that's what makes us feel well or unwell.
I'm an image title

I'm an image title

I'm an image title

I'm an image title

I'm an image title

I'm an image title

I'm an image title

I'm an image title

I'm an image title

I'm an image title

I'm an image title

I'm an image title

I'm an image title
BEYOND THOUGHTS HOLISTIC HEALING WITH AN EXPERIENCE OF OVER 20 YEARS
When it comes to holistic healing and health we are looking beyond the physical body, addressing physical, emotional, social, spiritual, and mental health.
​
The ultimate goal of holistic healing is wholeness. We are either in balance or out of balance, aligned or misaligned, integrated or disintegrated, and that's what makes us feel well or unwell. The body, mind, and soul work as a system with each part contributing equally to the whole person. When in flow, this system facilitates the natural flow of energy throughout the body, without blockages or resistance. When out of the flow, this natural flow is interrupted as energy accumulates and stagnation of energy occurs. Healing is about aligning any imbalance with its natural state of functioning. Holistic healing bypasses the 'band-aid fix' approach of conventional medicine, looks beyond a person's physical state, and sees the holistic view of their state of being or functioning. It acknowledges that the root cause of the physical illness may be non-physical.
​
Holistic healing works when we approach life from all aspects of being – physical, emotional, mental, and spiritual…
Authentic Products and Services
of most medicines in India are derived from natural products
of medicines are descended from plants first used traditionally according to WHO
We help you Heal & Grow
Mentally, Emotionally, Physically, and Socially.
Sacred geometry involves sacred universal patterns used in the design of everything in our reality, most often seen in sacred architecture and sacred art.
Professional counselors help clients identify goals and potential solutions to problems which cause emotional turmoil; seek to improve communication and coping skills
Certain numbers associated with people, places, and events may play a role in better understanding these things or predicting potential outcomes.
uses guided relaxation, intense concentration, and focused attention to achieve a heightened state of awareness that is sometimes called a trance.
Meditation is a practice where an individual uses a technique – such as mindfulness, or focusing the mind on a particular object, thought, or activity – to train attention and awareness, and achieve a mentally clear and emotionally calm and stable state.
Analysis of the physical characteristics and patterns of handwriting claiming to be able to identify the writer, indicating the psychological state at the time of writing or evaluating personality characteristics.
Alternative medical technique in which crystals and other stones are used to cure ailments and protect against disease. Proponents of this technique believe that crystals act as conduits for healing
Aromatherapy is a holistic healing treatment that uses natural plant extracts to promote health and well-being. Sometimes it's called essential oil therapy.
Vastu is based on various energies that come from the atmosphere like solar energy from the sun, cosmic energy, lunar energy, thermal energy, magnetic energy, light energy, wind energy.
Biophysical treatment method that works with the patient's own electromagnetic fluctuation spectrum.
Expert in dietetics; that is, human nutrition and the regulation of diet. A dietitian alters their patient's nutrition based upon their medical condition and individual needs.
Mind power is composed of your attention, your mental images and your thoughts. Thoughts are energy. Though subtle and invisible, they can affect reality.
Shop with us
Your search for healthy, natural, holistic and alternative Healing products ends here
we have products in more than 50+ modalities of Holistic Healing Techniques to choose from.
We are one of the largest integrated online shopping experiences for healing products.
We also offer professional consultation before buying the Product.
Beyond Thoughts Holistic Healing Organisation offers many different courses in Holistic Healing. By taking a variety of courses with us you can have a balanced understanding of Holistic Healing and Holistic Health leading to a variety of Holistic Healing careers. Our approach of courses and training programs are based on promoting Health and Wellness through Spiritual, Mental, Emotional and Physical techniques, Certifications are provided on the completion of every course.
Our Membership and
Affiliations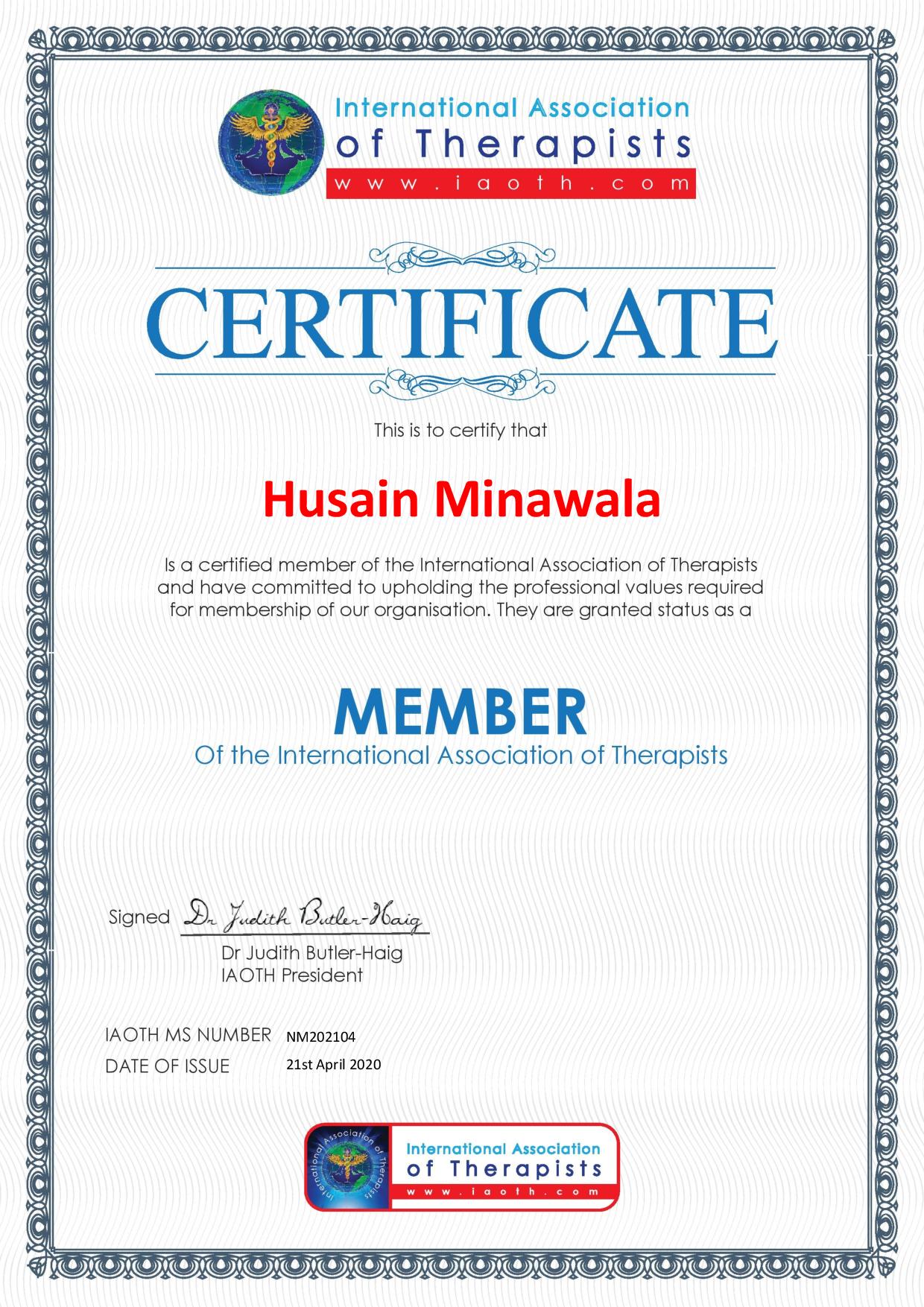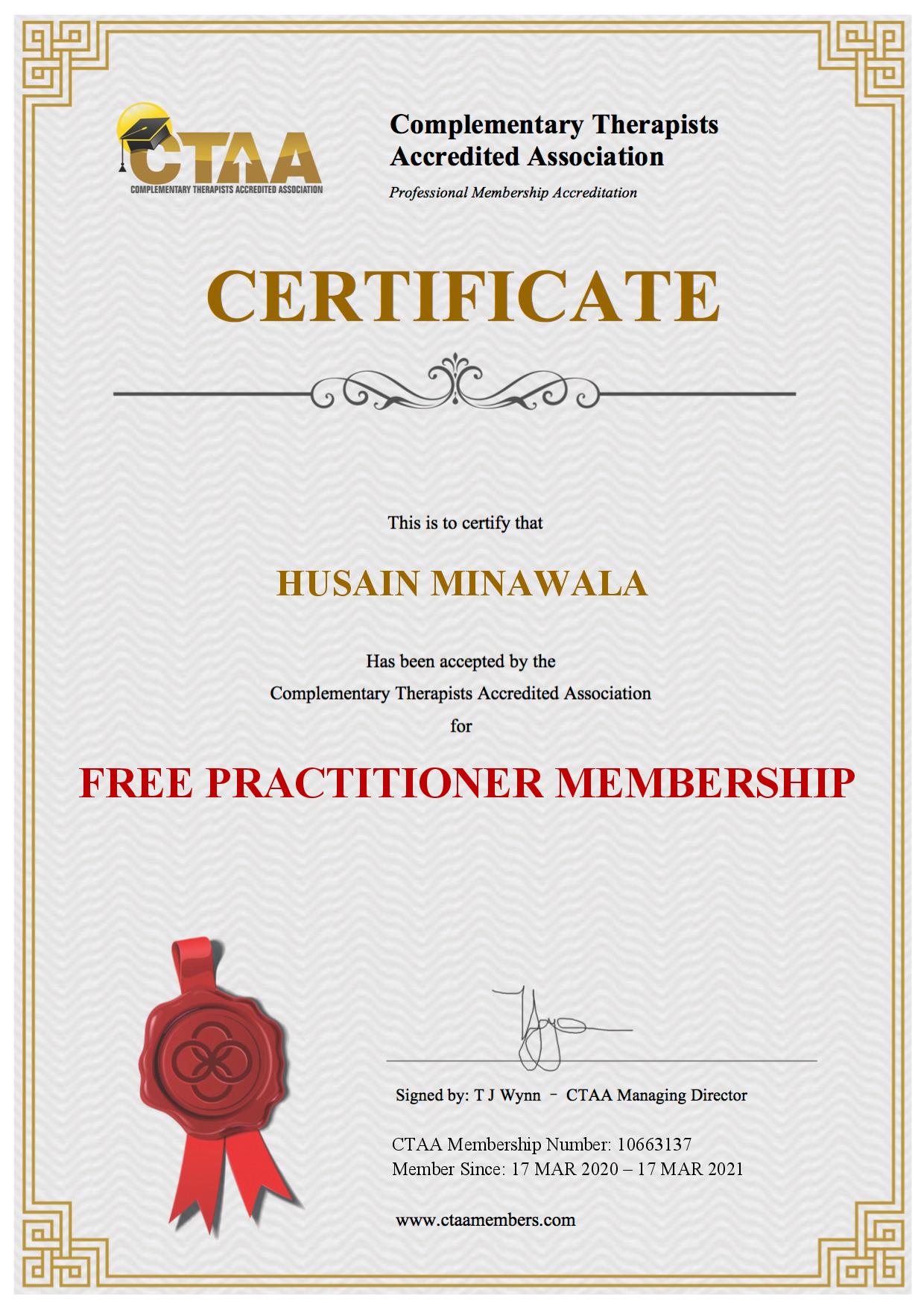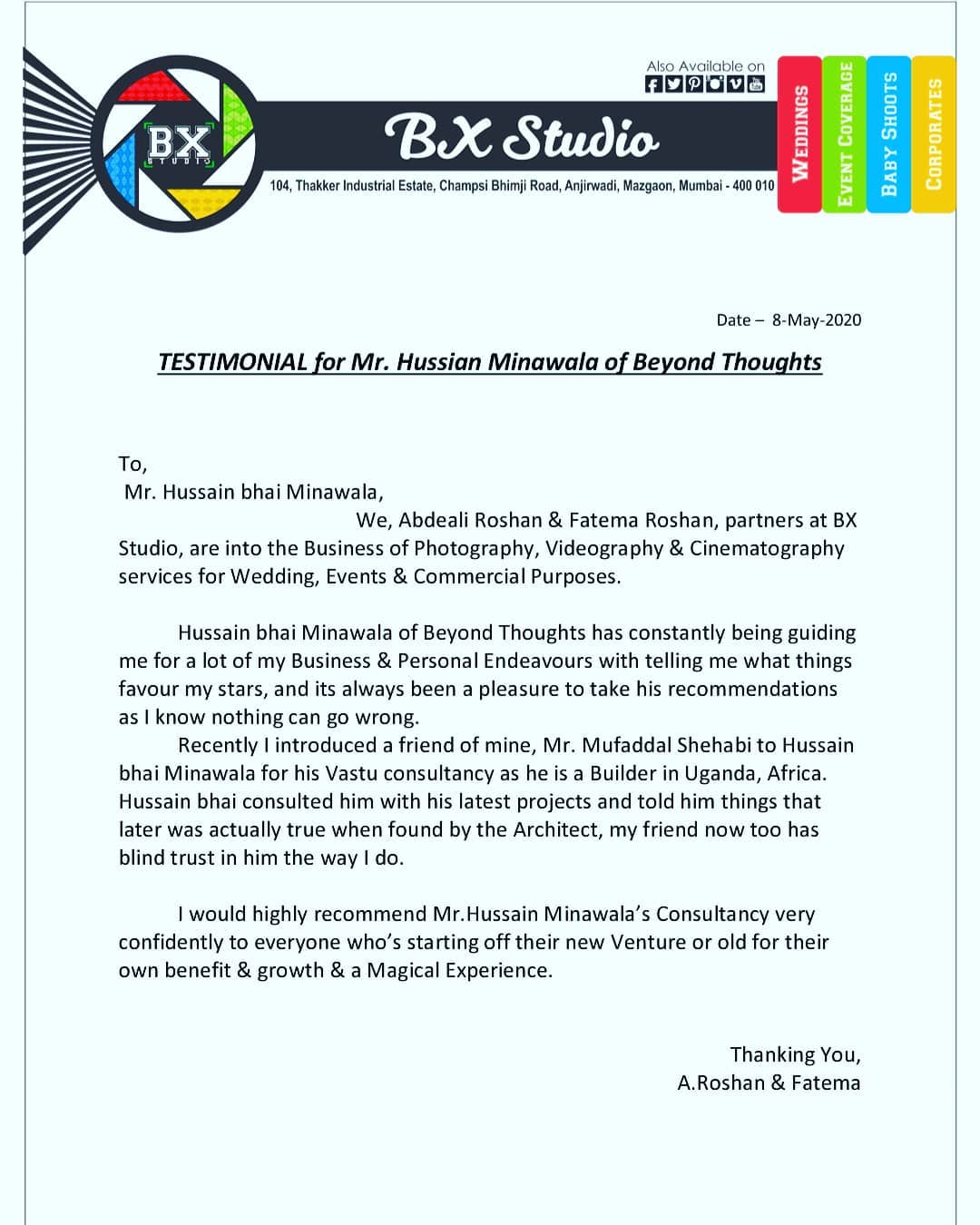 We have used Mr. Husain Minawala's expertise of Vastu in our Office & Home by taking his consultancy and did things as to how he recommended us. We also have placed some of his crystals, frames and lamps as suggested to revive positivity in our stones. We are extremely grateful to him for giving us thus insights and we personally feel that the changes he suggested has already started affecting our lives positively.
​
I would highly recommend Mr. Husain Minawala (Beyond thoughts) to everyone to use his insights in their Office, Home or Personal beings.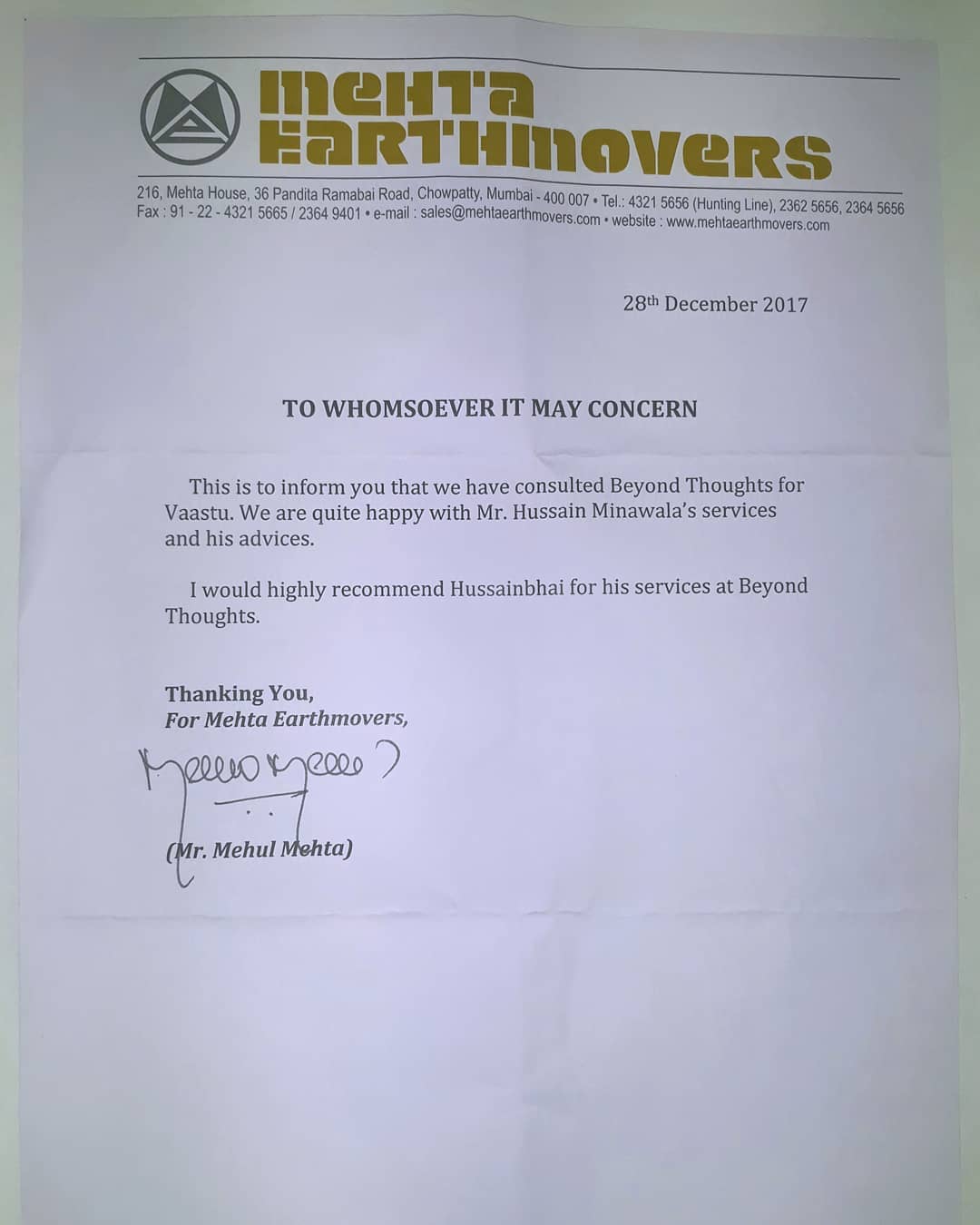 This is to inform you that we have consulted "Beyond Thoughts" for Vastu. We are quite happy with Mr. Husain Minawala's services and his advices.
​
I would highly recommend Husain bhai for his services at Beyond Thoughts.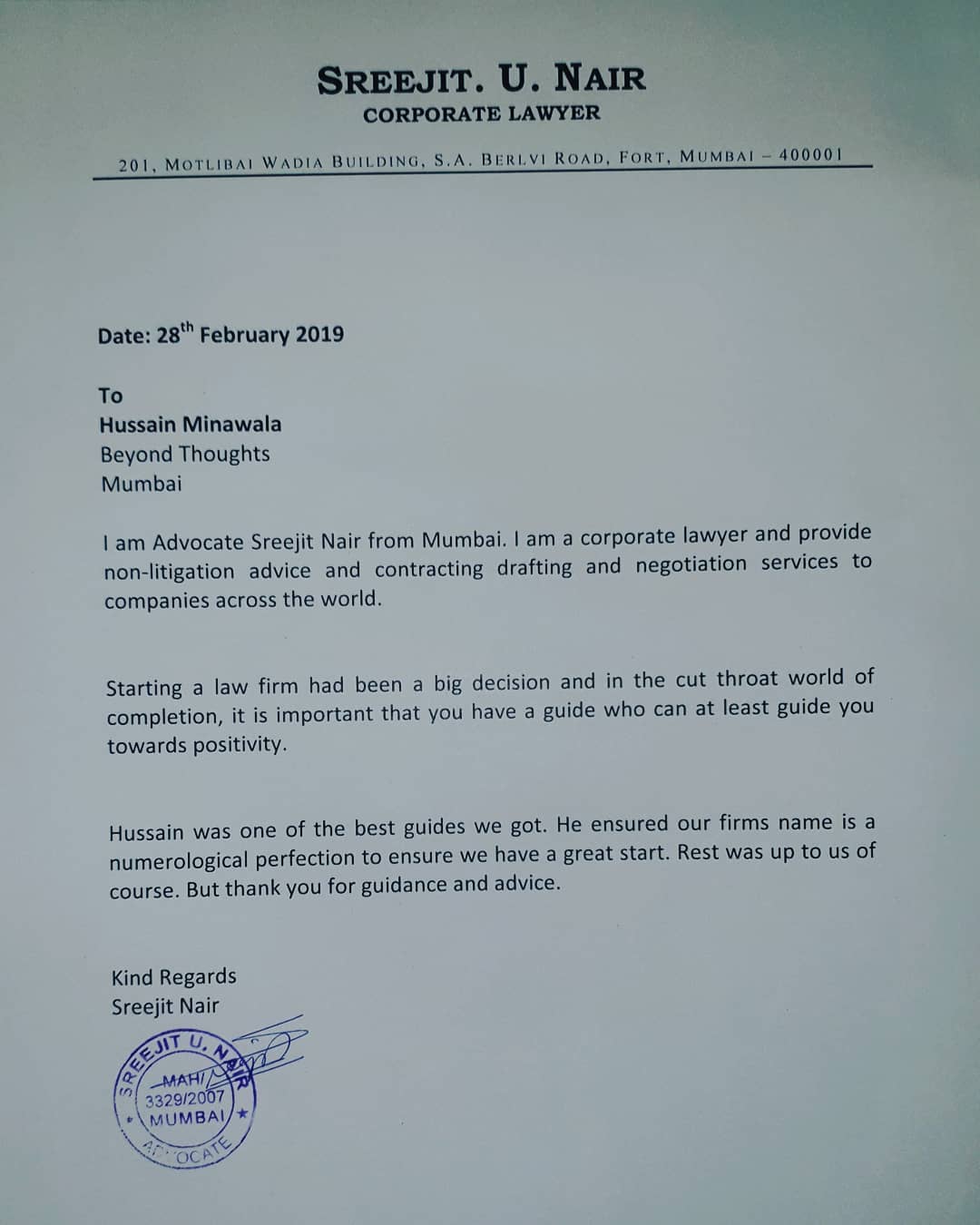 Starting a law firm had been a big decision and in the cut throat world of completion, it is important that you have a guide who can at least guide you towards positivity.
​
Husain was one of the best guides we got. He ensured our firms name is numerological perfection to ensure we have a great start. Rest wS up to us of course. But thank you for guidance and advice.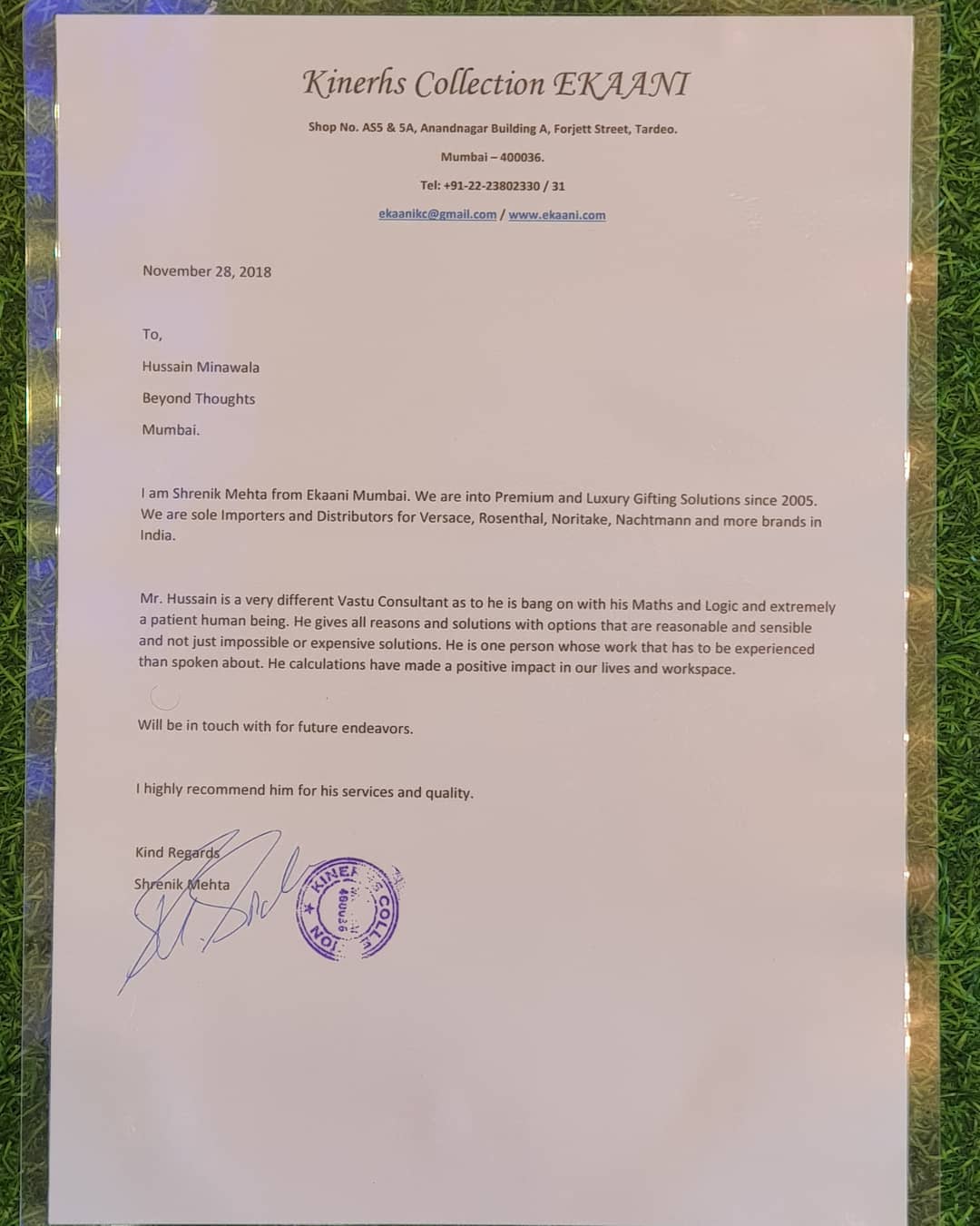 Mr. Husain is a very different Vastu Consultant as to he is bang on with his Maths and Logic and extremely a patient human being. He gives all reasons and solutions with options that are reasonable ans sensible and not just impossible or expensive solutions. He is one person whose work that has to be experienced than spoken about. His calculations have made a positive impact in our lives and workspace.
​
Will be in touch with for further endeavours.
I highly recommend him for his services and quality.
Kinerhs Collection EKAANI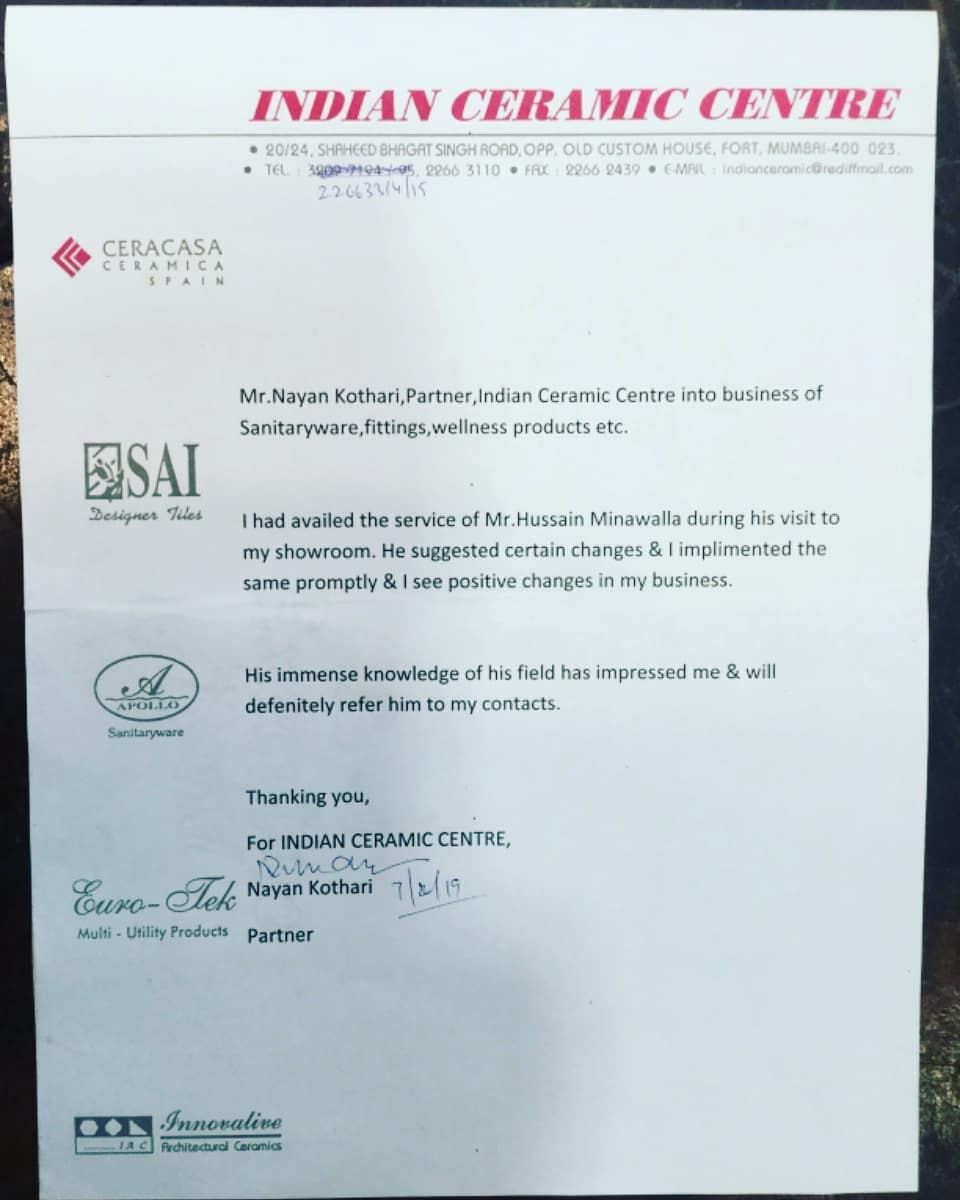 I had availed the service of Mr. Husain Minawala during his visit to my showroom. He suggested certain changes and I implemented the same promptly and I see positive changes in my business.
​
His immense knowledge of his field has impressed me and will definitely refer him to my contacts.